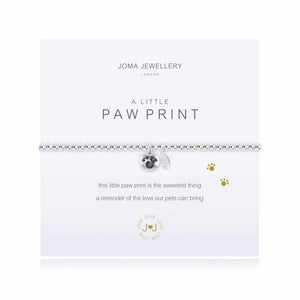 "a Littles" Bracelets from Joma make the perfect gift from Ireland!
DESCRIPTION
This little paw print is the sweetest thing a reminder of the love our pets can bring.
At The Little Tin House we've always believed in the power of sentiment that's why so many of our products have meaningful messages to uplift, inspire and become a token of love no matter who they're sent to!  
For a touch of sparkle, discover your favourite bracelet from Joma Jewellery, or stack them high for added shine.
Metal Type : Silver plated brass
Care Instructions : 
Plated jewellery will tarnish over time, to avoid it tarnishing faster than it should, keep it from coming into contact with materials such as: detergents, bleaches, chlorine, perfumes, body-creams and hairspray.